After-School & Preschool Sessions
Art for School-Aged Kids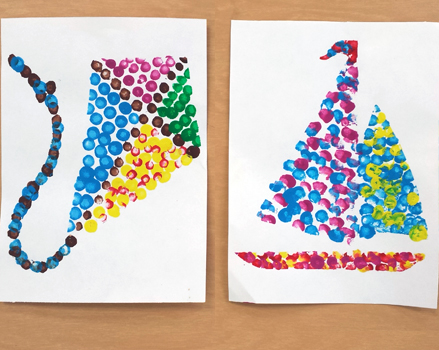 Want Art in Your Classroom?
If you want to add a formal art project to your current lesson plan, or are ready to jump from STEM to STEAM, let's collaborate the concept and details to make it a reality. April has grant-writing experience and will help you apply if you're considering a grant to cover costs. Remember, Forest Grove's EEFG teacher applications are due in Oct.
_______________________________________
View only Harvey Clarke After-School
View only Joseph Gale After-School
View only Valley Art After-School
Enhance your child's education
Enhance your child's knowledge with formal art lessons, at K-6 schools in Forest Grove and other participating venues. Graduated levels start with the basics and build from there. We introduce a variety of mediums and styles.
"Artistic activities engage the young brain and improve cognitive, visual, and spatial processing. They help young minds perceive how systems interrelate, and that problems can have multiple solutions. Research findings show that artistic endeavors improve long-term memory, increase student motivation, promote creativity, advance social growth, introduce novelty... and reduce stress." Dr. David A. Sousa &Tom Pilecki (source: http://www.pbs.org/wnet/need-to-know/opinion/can-stem-really-succeed-the-answer-is-right-in-front-of-us/16419/)
Currently we're contracting with Forest Grove School District, however we will consider schools in Banks, Gaston, and North Plains. If your school isn't listed, please let us know and we'll work to create a partnership. Be sure to mention to your principal, administrator, or PTO that you want Artingales after-school!
Sometimes students must be enrolled in the school venue listed to take classes there.