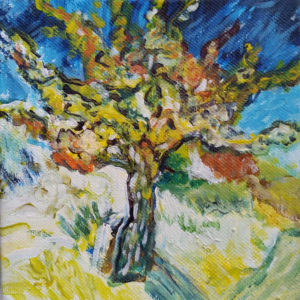 Date/Time
Start Date - Mon Apr 15, 2019 - Mon Jun 03, 2019
12:00 pm - 1:30 pm
Location
Valley Art
2022 Main St.
Forest Grove OR
This is for Ages: (13+)
In this six week studio series we'll learn various acrylic painting techniques, fundamentals of composition, perspective, and color theory in both loose and tight styles. We'll study a master's work, learn how to achieve the illusion of distance, then move on to the tightly cropped detail of an ordinary object. Plan to practice pure abstraction, stylized illustration, realism and pop-realism by mixing color complements, trying an underpainting, and incorporating simplified details. One class may progress outside to the Pacific Campus to introduce landscape concepts and plein air painting.
Designed for beginning to intermediate level painters, experienced and master artists welcome provided they can maintain the no-pressure inclusive attitude necessary for a beginner learning environment. Your instructor, April, will meet you where you are and gently nudge you through your comfort zone.
Includes all materials needed to initiate the painting. Students may want to buy their own supplies to complete unfinished paintings as homework, however, wait until after first class to discuss appropriate supplies. Instructor available until 1:30, responsible students may continue until 3PM with prior approval. Requires considerate use of materials and thorough cleanup. Gallery attendants and Valley Art staff reserve the right to request earlier cleanup for unexpected or emergency circumstances.
Ages 13+, homeschooled students welcome. Okay to join anytime or only take a single class, however some skills will build from beginning to end and best value comes with full session. Maximum 10 students, 25% senior citizen discount available, email april@artingales.org or call/text 503-929-4088 for code prior to registration.
[Meet dates: April 15, 22, 29, May 6, 13 (skip 20 & 27) June 3]
(images serve only as examples, not necessarily our actual subject matter)
Registration
Registration is closed for this event.