Date/Time
Start Date - Sat Aug 05, 2023 - Sat Jun 01, 2024
12:00 pm - 7:00 pm
Location
Artingales Cove
2032 Pacific Avenue, (Around Back)
Forest Grove OR
This is for Ages: (16+)
Saturday Studio is $35 to work independently in a shared space and includes use of Mars Black Akua ink, 4″ soft rubber brayers, plexi ink slabs, paper soaking trays, and a Conrad flatbed etching press. The press can easily accommodate plates or blocks up to 15″ x 24″ and may accommodate larger. Purchase paper at our cost, or bring your own. Add colored Akua ink for $10 more. (Paper and colored ink add-ons can be handled the day of or purchased in the Square Store when payment links go out)
Start hours may differ depending on the Saturday, see registration options below. Registration may close 5 days early to ensure time to stock the studio with supplies. Limited to 3 participants per day.
Definitive schedule will be set as we go along, with at least once per month availability.
If you prefer to work with oil based inks, put that in your special instructions and you'll be contacted via email to discuss accommodations.
Please click Submit Registration until you receive this message: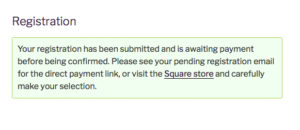 Registration