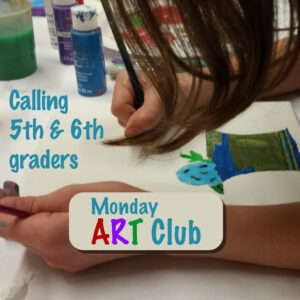 Date/Time
Start Date - Mon Oct 16, 2023 - Mon May 27, 2024
2:15 pm - 4:00 pm
Location
Artingales Cove
2032 Pacific Avenue, (Around Back)
Forest Grove OR
This is for Ages: (Grades 5 & 6 ONLY)
After school art club will experience various art media each week, including drawing, painting, pastel, sculpture, and printmaking. Projects will change throughout the year allowing students to continue year-round if desired. This after school club is flexible enough to allow more experienced artists liberty to work on personal projects with materials, instructor guidance, and feedback.
Open to all 5th and 6th graders. Tom McCall Students will be met on campus and escorted to Artingales Cove, only a 15 minute walk away to the lower level of 2032 Pacific Ave. A wagon will be provided to haul backpacks, bike riders should have a helmet. Nearby 5th and 6th graders from other schools or homeschools are also welcome to attend and should arrive to Artingales at 2:30PM. Pick up details will come in a confirmation email after deposit/payment and processing.
You only need to register here once. If there's still room and your student wants to continue you'll get the payment link again before the next class. We will meet the whole school year provided at least five students want to meet.
$25 Single trial class
$65 (3-weeks)
$140 (7-week) [half deposit allowed]
$165 (9-week) [half deposits allowed]
$18 per class add-on after 9-pack
OKAY TO JOIN ANY DATE IF THERE'S ROOM
Minimum 4 to hold class, maximum 12. No payment required until minimum enrollment is met.
Registration system emails are auto-generated and sometimes go to SPAM. Please search for director@artingales.org for detailed information.
Please click Submit Registration until you receive this message: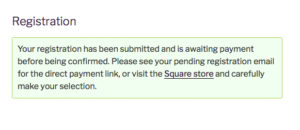 Registration