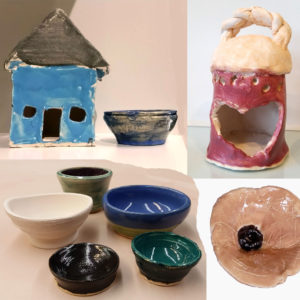 Date/Time
Start Date - Fri Oct 25, 2019 - Fri Mar 13, 2020
3:45 pm - 6:30 pm
Location
Valley Art
2022 Main St.
Forest Grove OR
This is for Ages: (7-17)
*Please note start times vary depending on wheel or handbuilding choice, some classes are combined. Select dates below.
Wheel students must be enrolled in a glazing day that follows throwing day(s), one can cover two or three throwing days. Beginners and experienced wheel kids welcome. Handbuilding students may use colorants the same day that result in a matte finish, or choose a glaze day to clear glaze over colorants or use colored glazes. Clear coats bring out the brightness and saturation of otherwise pastel looking matte engobes. Wheel days reflect the additional $5 charge for extra clay use, all prices include both required firings. Pieces ready for pick up sometime after both firings, depends on kiln load schedule. Generally 2-4 weeks.
ALL PARTICIPANTS MUST WEAR CLOSED-TOE SHOES IN THE POTTERY STUDIO.
Minimum 3 participants to hold class, maximum 5 on wheel and 6 or 12 handbuilders. Registrations usually close by Noon the day of, earlier if no enrollment.
Valley Art scholarships: http://www.valleyart.org/scholarships/
If applying for Valley Art scholarship, type scholarship in the special instructions and skip payment.
Please click Submit Registration until you receive this message: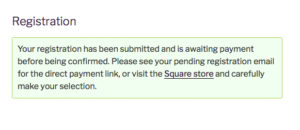 If you do not receive an auto email within an hour, your registration may not have gone through. Please email april@artingales.org to inquire.
Registration