Date/Time
Start Date - Mon Mar 18, 2019
11:00 am - 2:00 pm
Location
Valley Art
2022 Main St.
Forest Grove OR
This class is for Ages: (55+)
Create personal iconography that tells your story, or any meaningful scene in clay. Class covers basic clay handbuilding skills with slab, coil, and pinch techniques, then coloring our creations with engobes, stains, and underglazes. All materials and firing provided, $45 each person.
Meets Monday March 18th*
*Group will decide if we complete the project in one day by building for 1.5 hours then coloring with matte and satin sheen colorants, or meet a second day. If gloss finishes are desired, we will schedule a 2-hour second class as a group for an additional $10 charge.
Minimum 4 participants to hold class. Preregistration required, closes two hours before class starts, or earlier if no enrollment. Pay after enrollment met. Call April if you're trying to get in after 9AM the day of class. 503-929-4088
Valley Art scholarships: http://www.valleyart.org/scholarships/
If applying for Valley Art scholarship, type scholarship in the special instructions and skip payment. Printed application available in the gallery office.
Please click Submit Registration until you receive this message: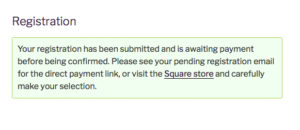 Registration