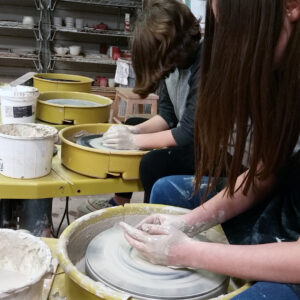 Date/Time
Start Date - Fri Feb 11, 2022 - Fri Sep 16, 2022
3:30 pm - 5:00 pm
Location
Valley Art
2022 Main St.
Forest Grove OR
This is for Ages: (7-17)
Open to kids ages 10+ with proper facial covering experience.
Classes tentatively scheduled for the following dates, note which you want in the special instructions and text by Wednesday each week for continued attendance.

Friday Teen Clay Dates
6/17
7/8
7/15
7/22
7/29
8/5
8/12
9/9
9/16
Minimum 3 attendance to hold class. If the class grows too large, we may split into two groups, each every other Friday to accommodate more kids.
$25 each or $100 for 5-pack (discount option in payment link)
Students will be taught proper handbuilding or wheel techniques, and once they show proficiency, may work on independent projects. Wheel requires minimum of two classes, one for throwing, one for glazing. Clay, glazes, and firing fees included in price. Pieces must be picked up within 30 days from notice once fired.
New Project Pick Up Policy – Valley Art no longer has space to store clay items long-term, here's the new deadline for pickup policy.
21 days after email notice of clay projects being ready for pick up, pieces will be destroyed or donated to Valley Art education scholarship fundraising. After any clay class, it usually takes 2-3 weeks to go through both required firings before notices will go out. To mitigate the email delivery issues, I'll also start posting to a "blog" on the Artingales site when they're ready. Ongoing students will not have this limitation since they are actively attending class and picking up projects on class days. Thank you for understanding.
Valley Art scholarships available: http://www.valleyart.org/scholarships/ If applying for Valley Art scholarship, type scholarship in the special instructions and skip payment.
Sold out options will not show in the Registration area, please use the waitlist option to be notified if space becomes available.
Please click Submit Registration until you receive this message: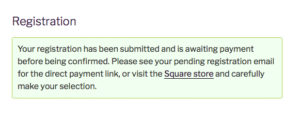 Registration