Valley Art Kids Classes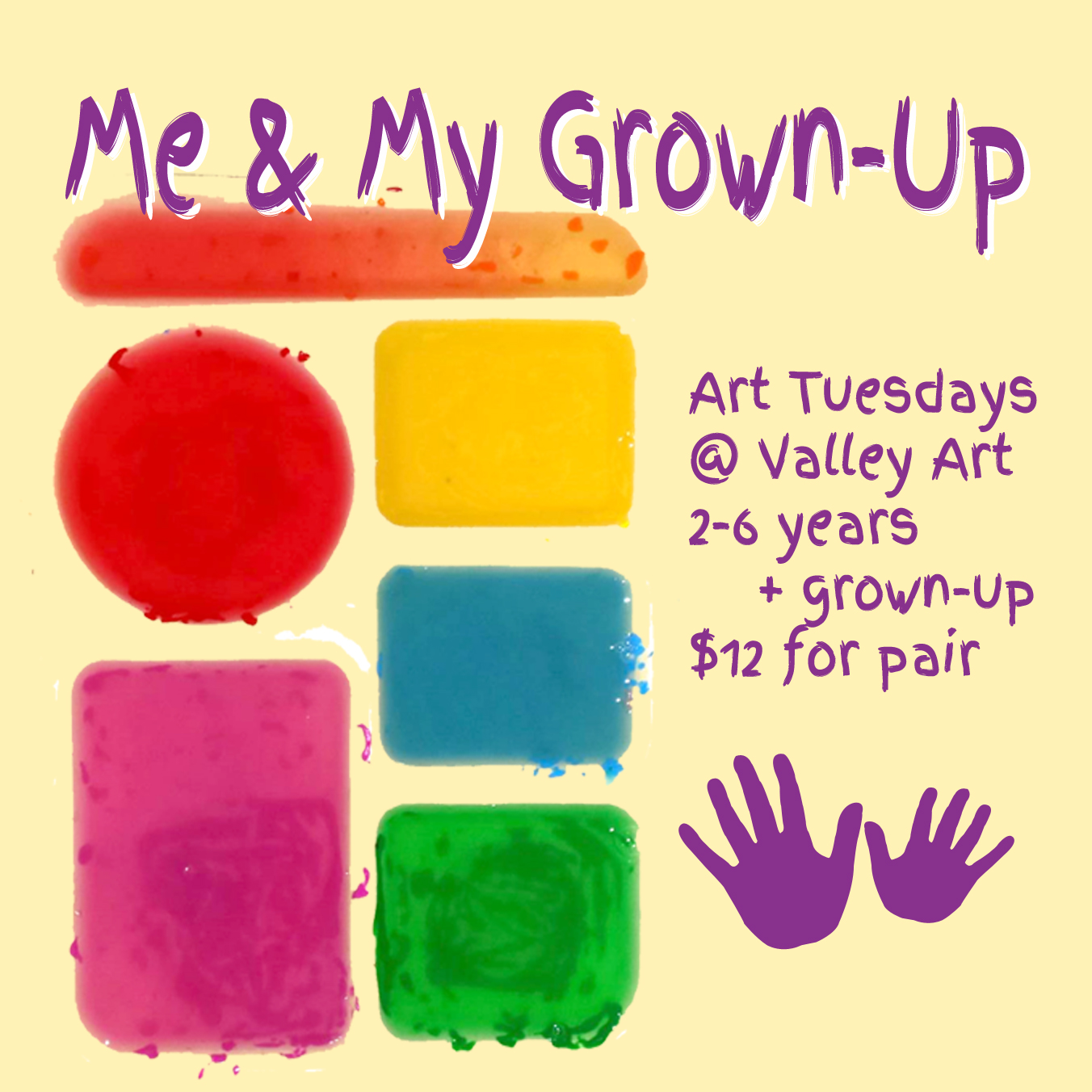 Preschool Art (2 - 6 years + adult)
Valley Art (Forest Grove)
Tue Dec 05-Jan 30 10:00 AM-11:00 AM
CLASS BY REQUEST ONLY - REGISTER AND STATE PREFERRED DATE/TIME IN SPECIAL INSTRUCTIONS. AVAILABLE 2ND AND 4TH TUESDAYS ONLY, START ANYTIME FROM 10AM-12:30PM, 1-HOUR CLASS. Bring your little one and make art with kid safe materials and professional guidance. One grown-up per child required to participate, price includes the child and grown-up. Wear art-making clothes.
$12.00 Register by: Feb 26
# Left: 12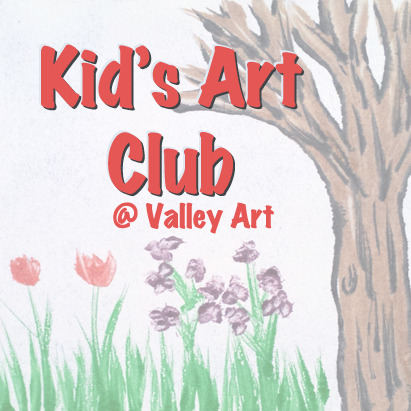 Kid's Art Club (5-17 years)
Valley Art (Forest Grove)
Thur Jan 11-Mar 15 5:30 PM-7:00 PM
Art Club will guide students through art media most 2nd, 3rd, & 4th Thursdays 5:30-7PM at Valley Art, focusing on a new discipline each month. $15 per class, $90 Jan-Mar, $65 5-class pack. Art club is flexible enough to allow more experienced artists liberty to work on personal projects with materials, instructor guidance, and feedback. Okay to register anytime before Mar 15. [Meets Jan 11, 25, Feb 8, 15, 22 Mar 8, 15]
$15.00 Register by: Mar 15
# Left: 10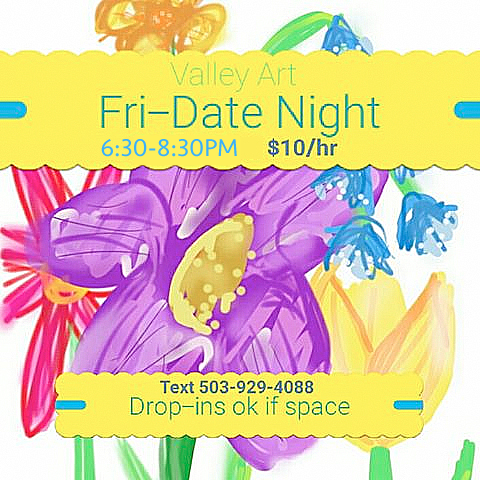 Multi-Media (ages 5+)
Valley Art (Forest Grove)
Fri Feb 02-Nov 02 6:30 PM-8:30 PM
BY REQUEST AND EARLY PREREGISTRATION ONLY. Fri-Date Nights most First Fridays and special events (5+) Need a little time way for a date? Bring the kids to Fri-Date Nights at Valley Art. Education Chair April Hoff will facilitate creative time with your kids for one hour or both. $10/hr, no guarantee drop-ins okay if room, ring doorbell behind Valley Art. You may text 503-929-4088 to confirm space.
$10.00 Register by: Oct 29
# Left: 12
* price per hour/ whole hour increments, choose date in Square Store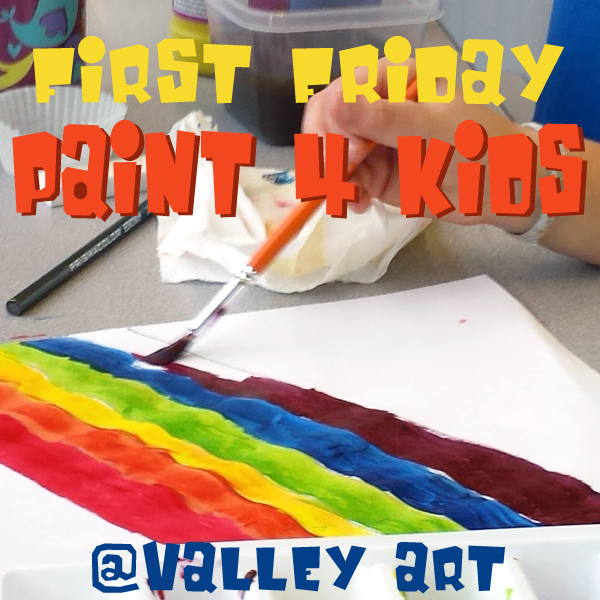 Painting for Kids (7-17 yrs)
Valley Art (Forest Grove)
Fri Feb 02-Mar 02 3:30 PM-5:30 PM
Paint Nights are not just for grownups! Designed for kids 7-17. Artingales instructor April Hoff will guide young artists through a new colorful acrylic painting each month. This special class at Valley Art does not follow the same program held at schools so kids may enroll in both. Meets [Jan 5, Feb 2, Mar 3] Enroll in one or all three for discount.
$20.00 Register by: Mar 02
# Left: 10
---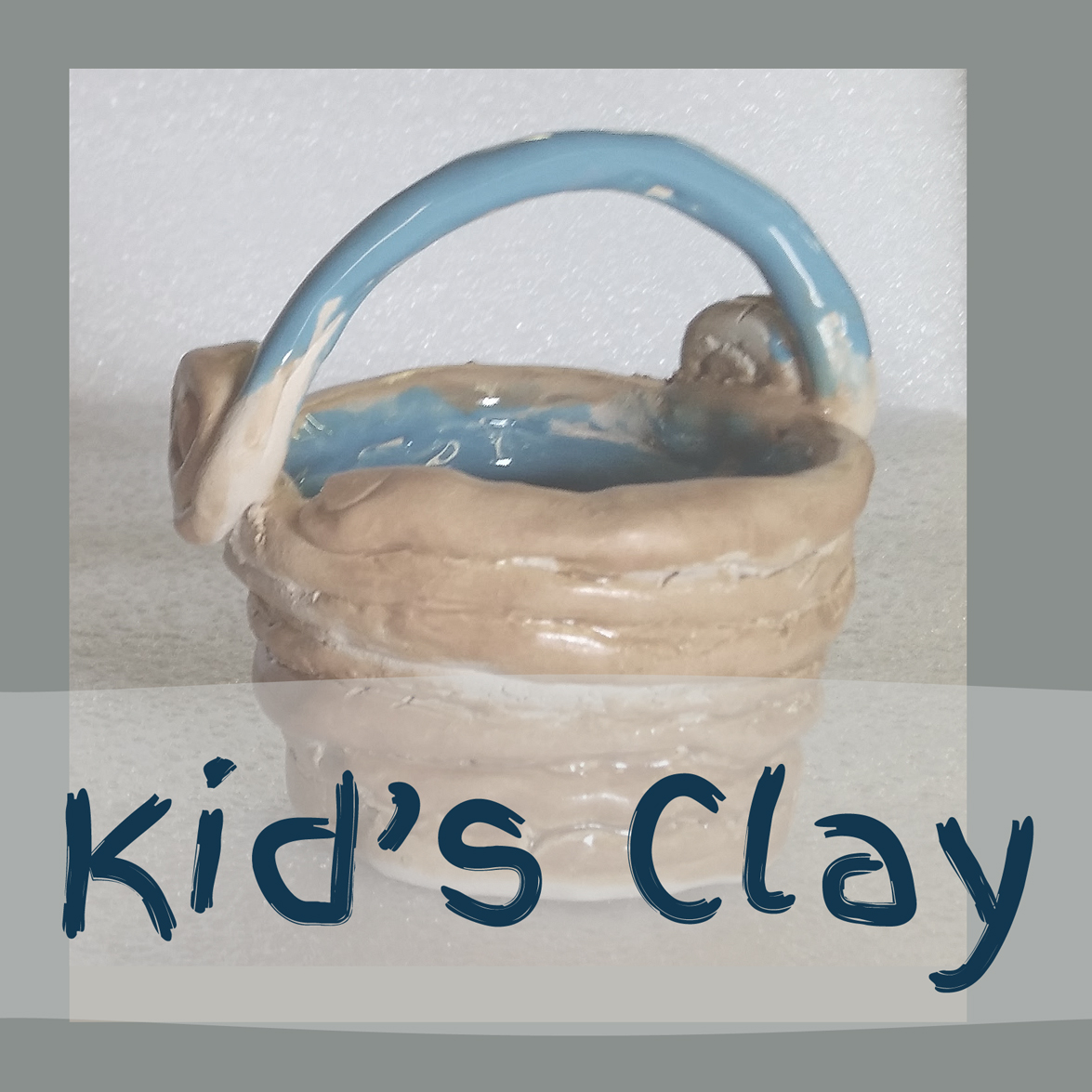 Clay Work (ages 7-17)
Valley Art (Forest Grove)
Fri Feb 09-Feb 23 4:00 PM-6:00 PM
Kids ages 7 to 17 will learn basic clay handbuilding techniques and will glaze their creations the last day of class. Children love the tactile quality of clay. Last project picked up after month's end. [Meets Feb 9, 16, 23] ALL PARTICIPANTS MUST WEAR CLOSED-TOE SHOES IN THE POTTERY STUDIO.
$60.00 Register by: Feb 09
# Left: 6